Lucky 13
Solitaire Games for Kids - Over 65 Ways to Play!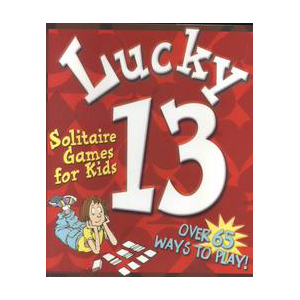 Author: Michael Street
Paperback: 128 pages
Publisher: Chronicle Books (March 1, 2001)
Language: English
ISBN-10: 1587170132
ASIN: B0002Y0SCE
All you really need for hours of fun is a pack of cards—if you know how to play solitaire. There's something for everyone in this excellent compendium, from classics like Klondike and Canfield, to fast-paced Hit or Miss and mind-bending Intrigue, to games like Double Your Fun that boost memory and counting skills. Whether basic, advanced, or two-pack games, the clear step-by-step directions and strategies combined with black-and-red card diagrams make them a snap to learn—and once you start, you're hooked! With over sixty-five games and variations (and one hundred funny pictures), here's an essential handbook for veteran cardsharks or beginning enthusiasts of all ages.
About the Author
Michael Street he has collaborated with Joanna Cole and Stephanie Calmenson on popular children's activity books, such as Fun on the Run and Marbles. He lives in Portland, Oregon. Alan Tiegreen has illustrated more than a dozen books for young readers. He lives in Georgia.