The Complete Book of Solitaire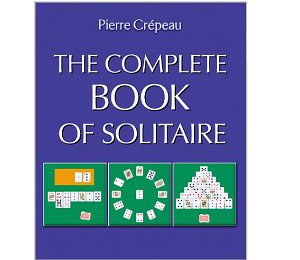 Author: Pierre Crépeau
Paperback: 512 pages
Publisher: Firefly Books (September 1, 2001)
Language: English
ISBN-10: 1552095975
ISBN-13: 978-1552095973
Everyone has played basic Solitaire at one time or another, but there is a world of Solitaire enthusiasts who play every variation of the game.
In compiling this authoritative Solitaire collection of 179 variations, Pierre Crépeau took joyful inspiration from his grandmother, a noted Solitaire aficionado. The Complete Book of Solitaire is structured according to the object of each game and grouped accordingly: tableau-clearing, pile games, combination games, and building by suit, color or sequence. Each game is illustrated in color and is introduced by the author with either a personal anecdote or useful background information. Players will find many of these games highly clever, constantly changing and evolving with a host of wonderful surprises or devilish traps awaiting.
Learning the Solitaire variations is greatly facilitated by the book's numerous illustrations. Winning at Solitaire does not depend on luck alone, it takes a good memory and some strategic thinking. Here is an ideal way to exercise the mind in mathematics and the art of precision while learning the benefits of perseverance, honesty and, of course, patience.
Rules and instructions to play 179 variations of the card game solitaire. Organized by the game's object, each game is illustrated in color and has anecdotal and background information as well as the rules and strategies to play.
Table of Contents
Introduction
Glossary
Elimination and Amalgamation
Elimination by Pairs
Elimination by Sums
Elimination by Proximity
Amalgamation by Suit
Amalgamation by Rank
Piling Up
Potpourri
Ascending Suit Sequences on the Ace
Ascending Suit Sequences on the Ace - One Deck Games
Ascending Suit Sequences on the Ace - Two Deck Games
Suit Sequences and Other Runs
Descending Suit Sequences
Mixed Suit Sequences
Circular Suit Sequences
Skip Suit Sequences
Suit Sequences With Abridged Decks
Various Runs and Sequences
Clues
Bibliography
Index